Joined

Jan 11, 2021
Messages

154
I will break down daily what I am hearing out of Auckland including pictures, videos and any other cool shit I might hear. I will post here and on the MB. I am happy to answer any question and can pass along questions if you would like.
The Prada Cup which starts in 2 days is a battle between 3 countries to see who will be the Challenger against New Zealand in the 36th Americas cup. The teams include
America - American Magic Patriot
Italy - Luna Rossa
England - Britannia
My cousin has been racing for a long time and is the chase boat captain. He helped design and build this years AC75 boat.
We are now 2 days away from the Prada Cup race to see who will be the Challenger for this years Americas Cup. The brits have really been working on their tacking and straight line speed and have improved greatly. They are still the 4 seed IMO but have come a long way since the Christmas regatta.
The Italians have had some solid runs recently they are a threat. They are a solid 3 seed and actually have some value (+400) for the Prada Cup
American Magic is looking like the solid number 2 boat right now. Straight line speed is great but once again the tacking issue has to be solved ASAP or they have no chance against the kiwis. Saying that....
The kiwis capsized their boat yesterday this is the 3rd time they've capsized their boat. That is going to be a big issue with them when they defend the cup. Rumors out of Auckland are that they have some issues since the accident. The wind got up under the foils and a crosswind hit them at the same time. Hopefully their boat is ruined.
This is from the American Chase boat during today's practice session.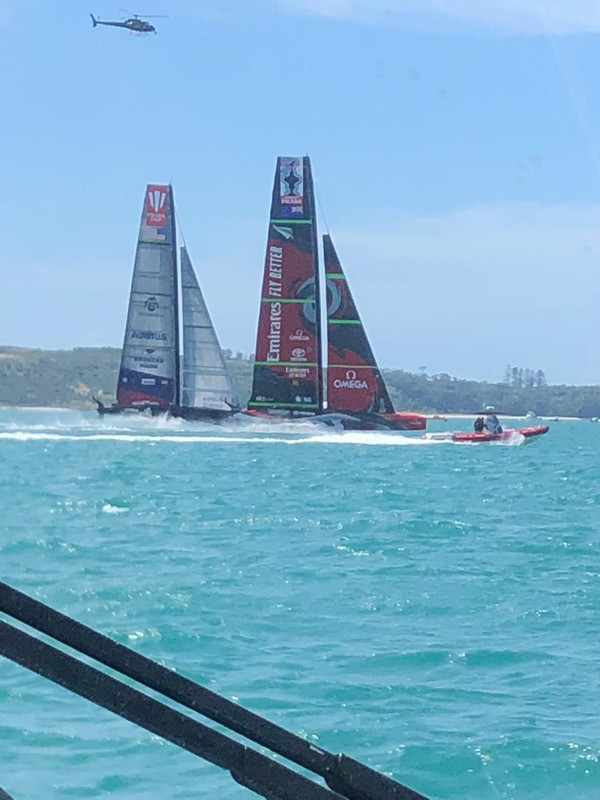 Here is the video of the kiwis capsizing their boat.
We are so close in just 2 days we get this party started!
Last edited: